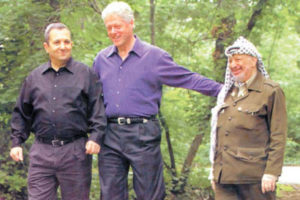 President Clinton's Deal
In 2000, president Clinton worked a deal with Israeli and Palestinians leaders and they finally started negotiating many of the toughest issues at stake. Control over the Temple Mount proved to be one of the toughest hurdles of all.
Clinton's memoir state, the Israelis offered the Palestinians "custodianship" over the Temple Mount and "sovereignty" over the Muslim and Christian quarters of the Old City. But Arafat, Clinton wrote, wanted full sovereignty over the Noble Sanctuary and nothing less. The talks ended without a peace deal. And several weeks later, the second intifada broke out.
President Clinton suggested that they share the Temple Mount under an international arrangement.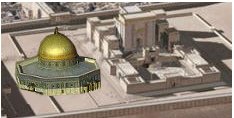 Ehud Olmert's Deal
During a speech in September 2010, former Israeli Prime Minister Ehud Olmert detailed a proposal he'd made to the Palestinians two years earlier. Olmert's offer was to create an arrangement where the Temple Mount and Western Wall would be administered by an international trusteeship of Israelis, Palestinians, Saudis, Jordanians and Americans. Olmert says he never got a response to the offer from the Palestinians.
Tensions between the United States and Israel have risen under President Obama and Mr. Netanyahu. They have clashed repeatedly, primarily over Jewish settlements on the West Bank and new housing in East Jerusalem.
Sunday, December 12th, 2010, Israel's leader Netanyahu dismissed a call from a key government partner to share the holy city of Jerusalem with the Palestinians, a reminder of the obstacles facing already troubled peacemaking efforts.
The dispute over the home to sensitive Jewish, Muslim and Christian holy sites, has derailed past peace talks and spilled into violence. Palestinians claim the sector as the capital of their future state.
The White House Mideast envoy is scheduled to arrive this week in another attempt to push peace efforts forward.
European Union to the Rescue   
Friday, December 17th , 2010, The European Union reaffirmed its readiness to recognize a Palestinian state at an "appropriate" time.
There has been pressure on the European Union to recognize a Palestinian state, particularly after the latest talks between the U.S. and Israel on a new construction freeze of Jewish homes in Judea and Samaria failed.
Regarding the so-called "pre-1967 borders" (the lands occupied by Jordan between 1948 and 1967), the EU will not recognize any border changes, including with regard to Jerusalem.
The EU's statement comes on the heels of last week's announcements by some South American countries that they recognize a Palestinian state.
Meanwhile on Monday, the German government denied reports that Germany proposed a resolution for the EU to recognize an independent Palestinian state within a year if no peace agreement is reached by then.
International Sharing Arrangement
Will the European Union end up in control of the Temple Mount in the end. The Revived Roman Empire has to get control in some form to fulfill prophecy. Is this how the Antichrist stands in the Holy Place claiming to be God?